Over
+
Years of Experience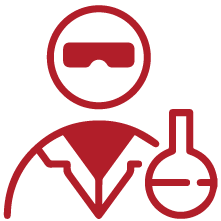 More Than
+
Instruments Installation
We serve customers in the following sectors :
Commercial Testing Laboratories
Pharmaceutical Manufacturers
Specialty Chemicals / Dispersion

The fast and flexible method of measuring viscosity
With the Brabender ViscoQuick, material characteristics related to viscosity can be measured rapidly and reliably even with just small sample amounts. In addition to starches, the viscosimeter can also be used to examine a wide range of paste-like and viscous masses.
Key Features:
Time savings: Fast and reliable results in a maximum of 10 minutes
Flexibility: Analyze starch and other liquid or pasty products
(Cooling / Heating rate: -15° C/min. / 20° C/max.)
Economically: Small sample size of only 115 ml
User-friendly: Quick, intuitive operation
Efficient: Modern laboratory management thanks to the web-based MetaBridge software
Why is this important?
The viscosity determines the product consistency and influences the processing properties. Among other things, the gelatinization properties and enzyme activity (alpha-amylase) in flour determines the baking properties:
High enzyme activity, triggered by premature sprouting in wheat or rye, leads to the sticky dough which causes problems during processing.
Suitable for the following applications:
Flour
Whole grain flour
Pulses meal
Starch
Baked goods
Pasta
Confectionery
Gourmet food
Milk
Paper
Textiles
Chemical products
Cosmetics
and much more
Learn More
Subscribe to our newsletter
Stay in touch with us to get latest news and promotions